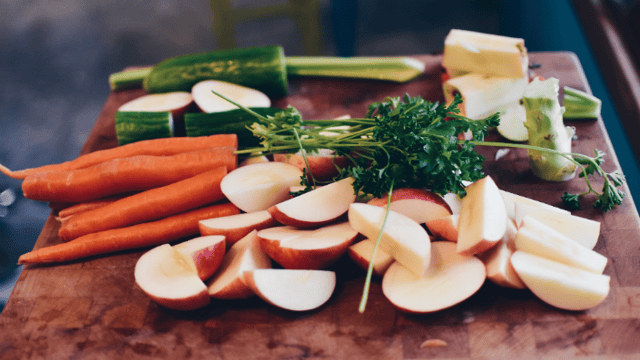 Looking for Mother's Day gift ideas? What could be better than a home cooked meal made especially for her? Plus, Mom is gonna LOVE this recipe, and you're going to love how easy it is to make! Delicious creamy chicken, crispy red potato wedges, nutritious and sweet whole carrots… besides, what could be better than a meal cooked with love? Check out this recipe!
Creamy Chicken Breasts & Crisped Potatoes
Ingredients
4 skinless, boneless chicken breasts (1.5 lbs)
8 baby red potatoes, quartered into ¾ inch thick wedges (1.5 lbs)
1 lb slender peeled whole carrots ½ inch thick (OK to substitute baby carrots)
1 cup unseasoned bread crumbs
1 cup full-fat mayonnaise
1 oz Ranch dressing
2 tbsp olive oil
Salt and pepper to taste
Parsley for garnish (optional)
Utensils
2 mixing bowls (1 large, 1 medium sized)
Large, rimmed cookie sheet
Cellophane
Steps
Marinating the chicken
Mix the mayonnaise and Ranch dressing together in the large bowl.
Add the chicken breasts into the bowl and coat each side generously.
Once coated, seal bowl using cellophane and place the chicken in fridge.
Preparing the veggies
Prepare veggies: quarter potatoes into ¾ inch thick wedges, and whole carrots into ½ inch thick strips
Grease baking sheet with oil, place carrots and potatoes on the baking sheet, and drizzle with olive oil plus salt and pepper to taste. Toss veggies to mix seasoning, then move to the sides of the pan, keeping baby red potatoes skin side up.
Preheat oven to 400˚F.
Preparing the chicken
Pour bread crumbs into the medium sized bowl.
Remove chicken from fridge, shake off excess cream marinade and proceed to dip in bread crumbs. Coat evenly on each side, then transfer to middle of the baking sheet, allowing room between the chicken and veggies.
Drizzle chicken with olive oil.
Cook
Once oven has reached 400˚F, place baking sheet into oven and cook for 26-29 minutes, or until the thickest part of any chicken breast reaches 165˚F.
Turn on broiler. Continue baking chicken for 2-4 minutes.
Once chicken is browned, remove baking sheet from oven, garnish with fresh parsley (optional) and serve.
Side Dishes & Dessert
You can take this a step further and really impress mom by whipping up a side salad made of spinach, mixed greens, salt, pepper, lemon and olive oil. Alternatively the bright orange carrots may be enough depending on your mother's tastes.
Hungry for dessert? Stop by your favorite bakery to pick up a dozen freshly made macarons for a light treat, or simply wind down with organic mint tea paired with berries and whipped cream.
How To Make An Unforgettable Mother's Day 2016
Imagine setting the table with this easy meal for mom to enjoy, and including a special Mother's Day gift certificate to Home Bistro to give Mom a break from cooking. A Home Bistro gift card is sure to surprise and delight, especially since she will feel like you gave her three gifts: the initial meal, the gift certificate, and our gourmet frozen meals delivered on dry ice right to her doorstep when she receives her order. Buy Mom a gift certificate to Home Bistro here and be prepared for Mother's Day 2016.