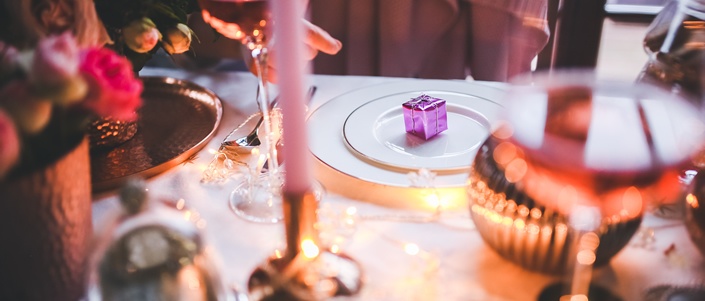 Planning the perfect date night in can be stressful: it takes a lot of time to prepare, you don't know the proper way to set a table, you're nervous about whether or not you'll live up to your partner's expectations... the list goes on. Whether this is your first time planning a stay-at-home date night or you're out of ideas for DIY romantic dinners, it IS possible to get it right the first time. With only a few simple pointers, you'll soon be well on your way to scoring brownie points with your loved one.
You don't have to spend days, weeks oreven hours to plan the perfect romantic dinner - read on to discover the 5 guaranteed steps to planning the perfect romantic dinner at home:
STEP 1: PLAN DINNER FROM START TO FINISH
This is the most labor intensive step since it requires you to give serious thought to what your partner would enjoy. Here's everything you need to plan out:
Discuss potential dates/times for the date night with your partner

Ask your partner if they have any food and drink preferences for the evening or if they'd rather have it be a total surprise

Note what your partner does and does not like - some people don't mind cherry tomatoes in a salad but won't touch a tomato slice on a burger

Confirm the date one week in advance

Determine how much effort you'll realistically be able to put towards your date night - factor in work, family, friends, hobbies, volunteering, errands and personal time to figure out what works for you

Based on the above, either order the meal ready-to-go from a gourmet food delivery service like Home Bistro, or buy fresh ingredients 1-2 days in advance

If you choose to buy fresh, prep the ingredients either the night before if you've got an airtight container to keep it fresh, or prep early that same morning to cut cooking time

Think about what songs you'd like to play during the dinner: "your" songs, popular hits, classic love songs
Compare these songs to the mood you want to set - do they match?

Research how to set a table and proper place settings to make it really romantic

Here's what an informal place setting looks like to get you started: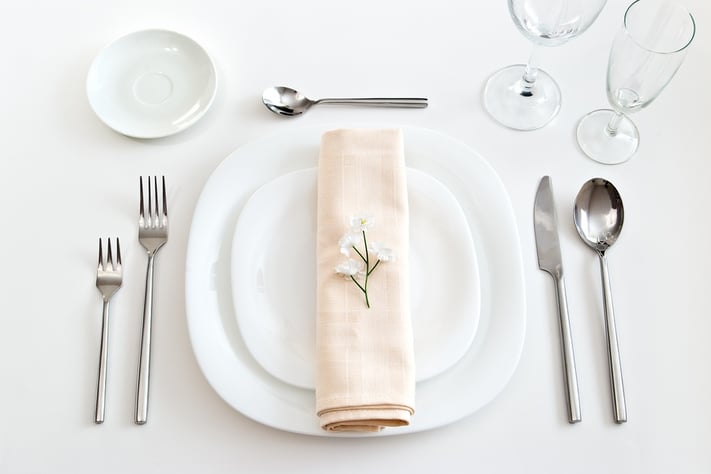 STEP 2: CREATE A MEMORABLE MENU
You can't predict what your partner will necessarily want to eat that night, but you can listen to them talk about their cravings or note what type of meals they've been gravitating towards recently like fancy Mexican or casual Chinese, and build around that. One secret to developing a memorable menu is to consider which flavor profiles your partner regularly enjoys - sweet, umami, sour, salty or bitter - and expound on these profiles in your menu. Combined with the meal preferences you already noted in step one above, you're now prepared to choose what food the romantic dinner will actually consist of:
What will the entree be? 

Which side dishes and appetizers would complement or tastefully contrast with the entree? 

Will you include a salad or palate cleanser between meals?

Your entree should be the focal point but that doesn't mean appetizers, side dishes or desserts should be ignored. Prepare a balanced meal, like raspberry chicken with creamy mashed potatoes and smartly seasoned brussel sprouts. If your partner prefers vegetarian fare, impress them with smoky grilled eggplant stuffed with cream and ricotta cheeses for a complex taste that's to die for when paired with a light blend of roasted peas and sweet succotash. Alternatively, a simpler yet refined plate may better suit your partner's epicurean style, like roasted leg of lamb with stone-ground mustard sauce served alongside finely smashed baby red potatoes and traditional southern succotash.
Select a wine that pairs well with your entree, or celebrate with a signature drink you share. Planning a romantic dinner at home is about more than delicious foods - it's about curating a menu to set the perfect mood.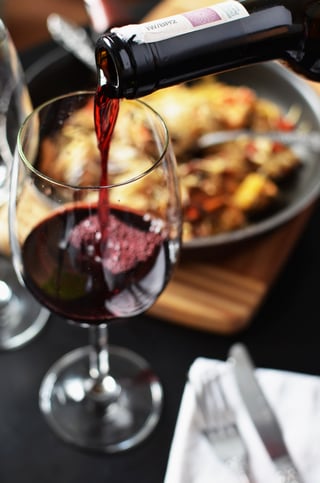 STEP 3: FINE DETAILS FOR A FANTASTIC EVENING
Choose the extra touches that will blow your partner away. A bouquet of their favorite flowers, Hallmark card delicately spritzed with your cologne or perfume, that dress shirt or dress they love to see you wear. Did your partner offhandedly point out an interesting item or trinket? Surprise them with that special something for a gift that shows you listen and care.
This is your chance to put your research on place settings to good use - set the table based on proper etiquette to demonstrate your thoughtfulness and attention to detail.
When planning a romantic evening in from start to finish, you should also consider what entertainment you'll have cued up after dinner. Lead your loved one to the next step by preselecting a favorite movie of theirs, cult classic you both love, or cutesy rom-com for after the meal.
A few of these suggestions may sound a little cliche, but the truth is that combining all these little pieces together paints a beautiful picture of your devotion to your loved one that they're likely to appreciate. Blow your partner away with the little details that tie everything together to set the perfect scene.
STEP 4: MAKE CLEAN-UP AS EASY AS POSSIBLE
If you chose to purchase one of the gourmet frozen meals listed above, cleaning up during your after-dinner high is virtually painless - all you need to toss in the dishwasher is one pot of boiling water, your dinner plates and silverware, and drinking glasses. Compared to all the pots, pans, lids, tasting utensils, blenders, rice cookers and other various kitchen appliances you would have needed with a home cooked meal, cleaning up after cooking a frozen gourmet dinner is a breeze.
To make it even easier, here's a pro-tip for you: when setting the table, lay down a clean white tablecover first - that way, once you remove all plates, glasses and silverware, you can simply ball up the table cover to gather any food remnants and dump them in the trash. Toss the tablecover in with the rest of your laundry and voila! you're done with cleaning.
STEP 5: TIMING IS EVERYTHING
Romantic evenings are timed well such that everything goes off without a hitch. You don't need to take the day off, you just need to plan ahead to make sure you've allotted enough time to host your stay-at-home date night. Keep in mind that many tasks often take more time than originally anticipated so give yourself some buffer room when calculating the timeline for your day-of activities. Here's your simple day-of checklist to keep you on track:
10 days before order your gourmet frozen meal items

8 hours before: if pairing dinner with a delicious cabernet, chill wine, otherwise leave at room temperature

8 hours before: prepare grocery list

7 hours before: go grocery shopping (if you chose not to use a Home Bistro frozen meal)

2 hours before: prep food

2 hours before: set table

1 hour before: begin cooking

10 minutes before: cue music

5 minutes before: dim lights & light candles

0 minutes before: sit down and enjoy yourself!

TELL US ABOUT YOUR DATE NIGHTS!
What do you think of these 5 keys to planning the perfect romantic dinner at home? Have you ever planned a romantic dinner at home before, and if so, what did you do? Tell us your experience in the comments!